LORO-X Pipe System For Gravity and Vacuum Systems
LORO-X Steel Push Fit Pipe System
---
Lorowerk design and manufacture lightweight discharge pipework for shipbuilding and offshore constructions. The LORO piping system includes LORO-X steel discharge pipes, LORO-XC stainless steel pipes and LORO-XD steel pressure pipes for all shipbuilding constructions.
---
Lorowerk pipework has been extensively specified for both gravity and vacuum sanitary systems on all types of nautical vessel, and are used and trusted by most of the world leading cruise line companies.
Pipe work ranges from DN40 – DN200 and are made from either hot-dipped galvanised steel with internal coating, stainless steel or Cunife. Pipe sections are assembled by locating convenient lengths of pipe, various fittings and deck penetrations via a purpose made push-fit socket connection with rubber sealing elements.
---
Advantages:
In comparing Lorowerk pipe work with conventional systems such as steel pipes, PEH or PVC, the LORO pipe system offers numerous advantages and end savings in weight, stability, temperatures and installation time.



LORO pipes are incombustible and come with a complete, ready to install selection of pre-formed pipe lengths, branches, adaptors, bulkhead penetrations and scuppers.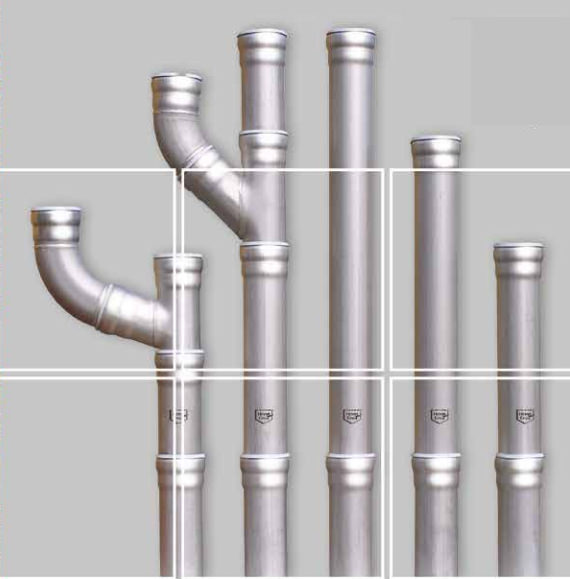 The pipes and fittings can be used above freeboard deck and below in enclosed spaces and machinery overboard discharge lines. Special deck and bulkhead penetrations are available for connections through Fire Rated Areas and are certified in accordance with Fire Test Requirements for "A" and "B" Class Divisions as defined under IMO Resolution A.754(18).
Lorowerk drainage pipe work is approved by the Leading International Classification Societies such as Germanischer Lloyd, Lloyd's Register of Shipping, the American Bureau of Shipping, Det Norske Veritas, Registro Italiano Navale, Bureau Veritas, Seeberufsgenossenschaft and the China Classification Society.

The perfect solution for both new builds and shipyard pipe replacement.
Application ranges rom a single pipe fitting replacement to a complete full new-build solution.
LORO-XCL Stainless Steel Pipes
With ther proven socket connections are supplied with various sealing elements for different stress patterns and are made of stainless steel under material number 1 .4301(AISI 304) as standard or 1 .4404 (AISI 316L)
Apart from being corrosion-proof, the LORO-XCL STAINLESS STEEL PIPES offer the numerous and proven properties of steel and are
Shock and impact resistant
Non-flammable
Light in weight
Heat and cold-resistant
The LORO-XCL connecting socket requires
No welding – just inserting
Quick installation
Click to download our brochures:
Contact us to discuss your requirements