Rydlyme Marine – Raw Water Descaler

European distributor for Rydlyme Marine a biodegradable descaler – order online or contact us for our raw water descaling and flushing service
---
RYDLYME Marine Descaler
RYDLYME Marine is a biodegradable descaler designed for the maritime industry to safely dissolve calcium, rust, zebra mussels and other mineral deposits.
The main benefits of RYDLYME descaler are:
It is biodegradable
It is easy and safe to dispose of
It is fast working
It is non-hazardous for personnel
It is safe on metals, rubber and more
RYDLME Marine is used by Armed Forces globally.
What type of equipment can you use Rydlyme Marine on?
This versatile biodegradable marine cleaner can be used on all types of vessels. Use it to remove unwanted deposits on many types of equipment including:
Air Compressors, AC units, Boilers, Booster Heaters, Bow Thrusters, Barnacles, Chillers, Condensers, Coolers, Cylinder Jackets, Diesel Engines, Desalination Units, Engine Cooling Systems, Evaporators, Feed Water Heaters, Fire Mains, Generators, Heat Exchangers, Hulls, Intake Screens, Keel Coolers, Lube Oil Coolers, Propulsion Units, Propellers, Pumps, Radiators, Sea Strainers, Sea Water Systems (main and auxiliary), Transmission Coolers, Tube Bundles, Waste Heat Boilers, Waste Water Piping, Water Pumps and Impellers, Zebra Mussels and more!
Which materials is it safe to use Rydlyme Marine with?
RYDLYME Marine can be used safely with the following materials and many more:
Iron
HDPE
Copper
Ceramics
Gel-coats
Hastaloy
Fibreglass
Copper Nickel
Steel
Stainless Steel
PVCTeflon
Plastic
Titanium
Painted Surfaces
Rubber
A biodegradable de-scaler designed for the maritime industry to safely dissolve calcium, rust, zebra mussels and other mineral deposits. Fast working, easy and safe to use, non-hazardous for personnel and safe on metals, rubber and more.
Order Rydlyme Marine
The benefits of using Rydlyme Marine
---
Safe for equipment and personnel
It is a non corrosive to virtually all metallurgies and material commonly found within water based equipment or systems, it is safe and non-hazardous, non-toxic and biodegradable
---
Lower maintenance and labour costs
With only two employees your equipment can be cleaned in place, returning your vital water systems to 100% working efficiency
---
Highly efficient and effective
It dissolves approximately 2lbs of the toughest calcium deposit efficiently and effectively.
---
Easy to use
It can dissolve the toughest fouling mediums – even tanic acid – with little or no work. It is not a powder or paste, it is a simple ready to use liquid which in certain applications can be sprayed on and wiped
---
It is biodegradable
It can be disposed of through normal sewer systems and in many cases directly to the ocean or inland waterway
---
Before and after treatment with Rydlyme Marine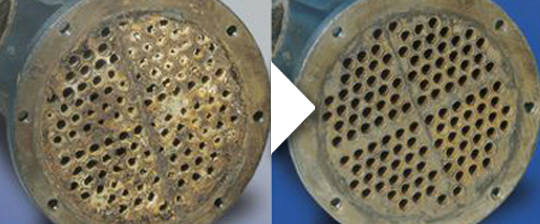 Key features and attributes
---
Safe for the environment
Rydlyme marine will not hurt the environment. The solution is non-hazardous and biodegradable. You can dispose of it down your regular sanitary sewer system.
---
Lower maintenance costs
Scale formed deposits can hinder the performance of vital water systems. With a simple Rydlyme marine cleaning you can return your vital water systems to 100% efficiency.
---
Effective
This amazing solution is designed to dissolve the toughest deposits efficiently and effectively.
---
Save on labour
You do not need a crew of eight to clean your equipment with Rydlyme marine. It only takes one or two employees to get the job done right in a few hours when you use Rydlyme marine there is less time and labour spent cleaning your equipment and more time generating income.
---
No disposal cost
You can put Rydlyme marine down regular sanitary systems in any concentration.
There is no need to add neutralisers before you dispose of Rydlyme via the sewer system.
Other methods usually have to follow costly disposal procedures.
---
No need to disassemble equipment
Most methods require equipment to be disassembled prior to cleaning, which results in high costs and lengthy equipment downtime.
With Rydlyme Marine you can clean your equipment efficiently without costly disassembly.
---
​Rydlyme Descaling Pumps
For removal of limescale, rust and corrosion deposits from heating plant and cooling circuits, pumps built to handle the strongest descaling chemicals.
---
---
Our mission is to provide the very best possible customer service in every aspect of our businesses. We aim to offer a personal, friendly approach teamed with an efficient ordering system.
Unlike many suppliers, we do not have a minimum order criteria and whether you need a simple toilet seat to a complete sewage treatment plant, we offer the same level of customer service.
Having worked in the industry for several years now, we understand that often when spares are needed, time is of the essence and with this in mind we normally respond to customers requests within a few hours.